Arbitration
ICC and Jus Mundi extend partnership on dispute resolution content
ICC and Jus Mundi have broadened the scope of their existing partnership to enable wider access to ICC's dispute resolution expertise via Jus Mundi's international law and arbitration research engine.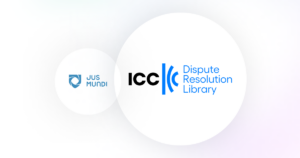 Containing over 7,500 documents, the ICC Dispute Resolution Library is a key resource for international businesses, legal practitioners, and academic institutions that grants access to the ICC Dispute Resolution Bulletin, ICC arbitral awards, ICC Institute Dossiers, ICC Commission Reports, the ICC Enforcement Guide, the Secretariat's Guide to ICC Arbitration, ICC Model Contracts, and special publications. The ICC Dispute Resolution Library will be available to its subscribers via the Jus Mundi platform as of 1 October 2022.
Commenting on the broader agreement, Secretary General of the ICC International Court of Arbitration Alexander Fessas said: "ICC is committed to strengthening arbitral infrastructure worldwide and the launch of the new ICC Dispute Resolution Library delivers on that promise. By making our resources more widely available via Jus Mundi, ICC is not only contributing to the enhancement of the practice and know-how of arbitration globally but also enables greater access to justice for the resolution of commercial disputes, in line with our mission to ensure widespread peace and prosperity for all."
With aligned goals to enhance arbitration globally and bolster transparency, ICC and Jus Mundi joined forces in 2021 to make publishable ICC arbitral awards and related documents freely available to the global legal community.
Commenting on the partnership and role of hosting the ICC Dispute Resolution Library on Jus Mundi, CEO and Co-Founder of Jus Mundi Jean-Remi de Maistre said: 
"We strive to improve access to the best, most appropriate legal resources, which is why we are thrilled to continue our relationship with ICC. Our aim is to become a one-stop destination for our users by providing the most comprehensive primary resources and tools in arbitration. With essential secondary sources from ICC, our multilingual search engine will allow the legal community and economic actors worldwide to be more efficient and effective in their research and continue upholding the global Rule of Law."
ICC materials are now interactive thanks to Jus Mundi's artificial intelligence-backed features, which allow professionals to browse a range of resources quickly and efficiently — including metadata on rules and people, a table of contents and content filtering options.