Global governance
Four new ICC offices, one shared vision
From Albania to Venezuela, the International Chamber of Commerce's (ICC) global network of regional branches – known as national committees – are a driving force in the world business organization's support for international trade and for delivering business views to their respective governments.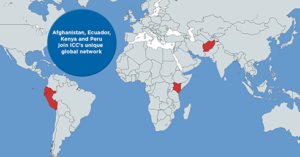 Continuing the global expansion strategy of this unique network in Africa, Asia and South America, ICC has launched new offices in Afghanistan, Ecuador, Kenya and Peru. Together with ICC representative offices for other territories such as Hong Kong and Macao, this brings the total to 92 offices.
We asked representatives from each of the four offices for insight into how they expect an ICC presence will boost the private sector in their region.
ICC Afghanistan
"Afghanistan is the land of business opportunities with untapped resources," says Abdul Qadir Bahman, Secretary General of ICC Afghanistan. "We need to use all these resources and opportunities with the help of global markets to improve the economy of our country. We have the opportunities to be part of the world economic practice, to foster a competitive and healthy economic environment to benefit all businesses in Afghanistan and enable the business community to voice their interests worldwide."
According to Mr Bahman, a number of business people worked to establish ICC Afghanistan in order to promote the market economy system based on the principles of free and fair competition among business enterprises. Other objectives for the ICC Afghanistan include bringing businesses up to world-class standards, encouraging investment, facilitating access to global markets and contributing the voice of the Afghan private sector to standard setting and rules making.
ICC Ecuador
According to Patricio Alarcon, Chairman of ICC Ecuador, the Ecuadorian business community is undertaking efforts to build bridges with the rest of the world in a time when the public sector has shown limited interest.
"ICC is an international organization with global reach," he said. "Our hope is to extend this network to Ecuadorian business and help them integrate more fully into the global business community."
ICC Peru
Through the support and international reach of the world business organization, ICC Peru hopes to become an opinion leader on issues related to national development in the country.
"We offer members a platform to contribute opinion to the development of public policy proposals on economic issues that impact activities such as public procurement and dispute resolution," said ICC Peru leader Cesar Guzman Barron.
"Leveraging the ICC national committee network we also aim to raise awareness of customs and business practices that can benefit from the use of ICC's internationally recognized rules, standards and guidelines such as the Incoterms Rules and ICC rules and guidelines on documentary credits."
According to Mr Guzman Barron, ICC Peru will also work to strengthen commercial relations between ICC members in Peru and members of other ICC national committees.
ICC Kenya
Kenya is the economic and transport hub of East Africa, making ICC Kenya a welcome and strategically important addition to ICC's active network in over 20 African countries.
Hosted by the Kenya Private Sector Alliance (KEPSA), ICC Kenya manifests a commitment by ICC to increase its presence across Africa to support private sector growth and development.
While a key objective for ICC Kenya is to promote the benefits of international trade and investment and augment the voice of Kenyan business at national and international level, the national committee will also bolster ICC efforts to contribute to the development of the practice of international commercial arbitration in the country, and address the increasing demand for the resolution of international disputes in Africa.