Certificates of Origin
Five reasons to join the International CO Global Accreditation chain
Trade facilitation services are in the DNA of chambers of commerce, which have issued Certificates of Origin (CO) for over a century. Today, more than 2,000 chambers worldwide take responsibility for over 15 million COs issued each year.
Chambers can benefit from being part of the ICC World Chambers Federation (WCF) CO Global Accreditation Chain to reinforce and promote the central role they are playing.
Global harmonized standard
As part of the CO Accreditation Chain, chambers become globally connected with their peers and reassure business, traders, banks and customs administrations that COs have been issued according to the highest standards, conforming to the International CO Guidelines published by ICC WCF.
International recognition
Every Certificate of Origin issued by an accredited chamber comes with an international quality label. This guarantees chambers greater international recognition and traceability when under the ICC WCF umbrella.
Security
Data from CO handled by accredited chambers are transferred to the CO Verification website. Customs authorities and the issuing chambers can then authenticate the CO using its unique CO number and accreditation number.
Global network
With 56% of global trade being intermediate products, business relies on an efficient supply chain to remain competitive. In every country, customs agencies and the business community can rely on the global network of chambers which helps by providing trade facilitation and professional documentation services.
Better business
Close to business and trusted as neutral third parties, chambers are ideal partners for governments looking to deliver trade and business services. Accredited chambers also benefit from collaborating to define their future role in bringing trust to business in trade, including electronic CO services.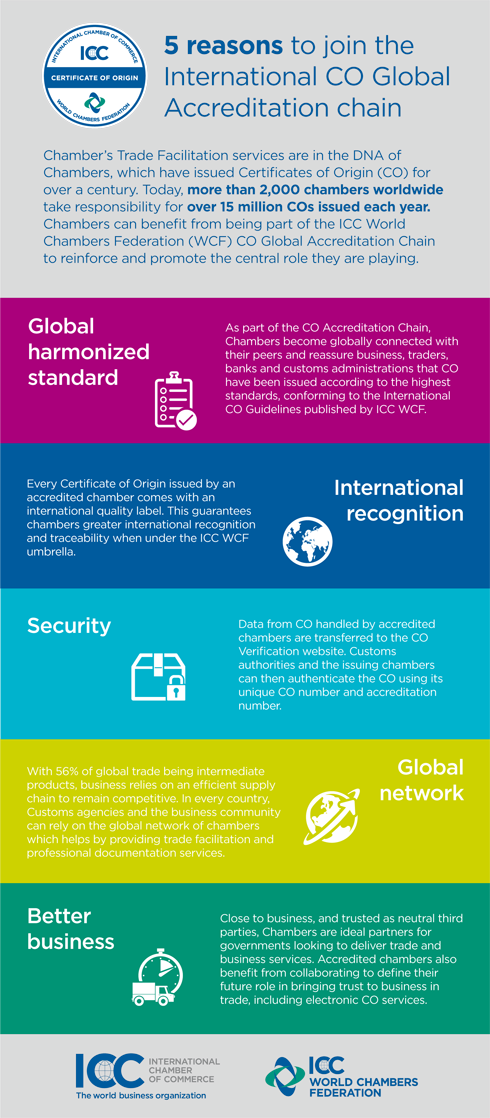 Learn more about Certificates of Origin.
Learn more about the ICC World Chambers Federation.
Follow WCF and COs on Twitter @WorldChambers #CertificatesofOrigin.
Learn more about ICC trade facilitation resources.