Arbitration
Find an ICC event hosted for you in 2017
It may be a new year but our resolution at the International Chamber of Commerce (ICC) is to continue hosting conferences and trainings of the highest standard at venues around the world.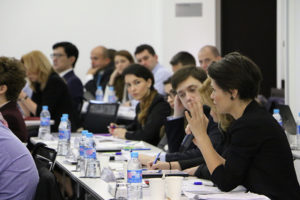 From regional conferences on international arbitration to professional development training for legal and business professionals, our events are recognised worldwide for promoting excellence. What's more, they are open to ICC members and non-members alike. So take a look at this round-up of some events you won't want to miss in 2017.
Regional focus on international arbitration
In April, ICC will host its first European Conference on International Arbitration. Set to become an annual must-attend event on the arbitration calendar, the conference will see discussion on topical issues and provide participants with a chance to engage face-to-face with other professionals and experts from across the continent. Other regional conferences are set to take place in Dubai, Lagos, Miami, New York and Singapore – all tailored to professionals wanting to keep pace with the latest arbitration developments in their respective regions.
Building competency in construction disputes
ICC will be putting its extensive experience in construction disputes to good use when we once again join forces with the International Federation of Consulting Engineers (FIDIC) to stage the International Construction Contracts Conference in New Delhi in June. Construction Dispute Resolution will also be the focus of an ICC Conference in Bogotá in March featuring speakers and ICC experts from all around the world with extensive international experience in this subject area.
Examining arbitration developments in Iran
Following a series of developments in 2016, increased trade flows with Iran has brought increased demand for international arbitration by commercial players who prefer the dispute resolution technique to resolve their cross-border disputes.
The ICC International Court of Arbitration is teaming up with ICC Iran to bring you a conference on the Rising Jurisdiction in International Arbitration . Tracking recent developments, and exploring the potential of ICC Arbitration for further enhancing economic growth and safeguarding investments in Iran, the conference will be held on 1 February in Tehran and will be followed on 2 February with an event for young arbitrators on the Features of ICC Arbitration Proceedings.
Engaging young arbitrators
ICC also has a full schedule of events coming up in 2017 specifically designed for young arbitrators. Focusing on topics from third party funding to energy dispute, the Young Arbitrators Forum (YAF) already has events slated to take place in Costa Rica, Germany, Italy and Switzerland. A highlight of YAF activities will be ICC's 6th biennial YAF conference hosted by Columbia University in New York City on 9-10 June.
From counsel to arbitrator
Practitioners with significant experience in international commercial arbitration as counsel but with little or no experience as arbitrators will not want to miss the ICC Institute Masterclass for Arbitrators taking place in Washington DC in March. The class presents an opportunity to gain a deeper insight into some of the provisions of the ICC Rules of Arbitration while learning about the latest developments and best practices related to serving as an international arbitrator.
Click here to view a full list of ICC Events.
Professional Development is also offered year round via the ICC Academy, ICC's e-learning platform providing online certification and professional development services to meet the needs of banks, corporates and other organisations at the forefront of international trade. Learn more about the ICC Academy.