Mediation
Eight universities in position for the ICC Mediation Competition quarterfinals
Eight universities from seven countries have made it through to the quarterfinals of the 9th ICC International Commercial Mediation Competition on the contest's fourth day.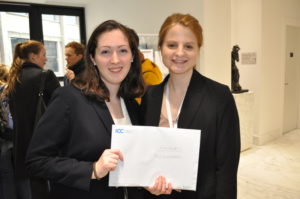 Today's quarterfinalist announcement at the International Chamber of Commerce (ICC) global headquarters follows four days of intense negotiations between hundreds of law and business students from around the world. The preliminary rounds saw Bahrain Polytechnic face Singapore Management University, Maastricht University meet the South Texas College of Law, and Washington College of Law meet the Russian Trade Academy, just a few of more than 150 mock mediation sessions around Paris.
Teams going through to the quarterfinals are: ICC Mediation Competition first-timers New York University School of Law (USA), Maastricht University (The Netherlands), Monash University (Australia) and NALSAR University of Law (India), joined by Bucerius Law School (Germany) and Ludwig-Maximilians-Universität München (Germany), together with the winners of the 2013 Competition, Jagiellonian University (Poland), and last year's runners up, the University of Auckland (New Zealand).
"Elated", Mary Grace White is one of two students representing New York University School of Law: "We worked hard on this, and we're very, very happy to be here. I hope it's going to create new interest in mediation back home, especially with New York University's focus on international law."
Teammate Laura Wolfe added: "All the teams we pled against were amazing: we learned so much from them, and from the judges' feedback. Everyone has been willing to answer questions and give us constructive tips, and that's something in our experience that's unique to this competition. It's useful, in all facets of law, to learn the mediation skills set, the ability to actively listen to someone and try to see where they're coming from. It's whetted our appetite for exploring other mediation opportunities."
Many universities competing in the ICC Mediation Competition for the first time got through to this year's final rounds, including teams from Aarhus, Maastricht, and Trinidad and Tobago.
Valuable experience
"It's fascinating to see how students in different countries have learnt about mediation and are able to deal with international problems: I think it's one of the most valuable experiences students can have in their early careers," said Michelle Sindler, arbitrator, mediator and lawyer, Chief Executive Officer of the Australian International Disputes Centre, and ICC Mediation Competition judge.
Devangshu Nath, NALSAR University of Law, agrees: "We were sitting in the room with mediators already working in the industry. Being students, and getting that chance to interact with practising mediators, working on a problem in their presence, and getting their feedback at the end, that's been a great learning experience."
The Competition is one of the world's leading mediation capacity-building events. The complex, international business problems that teams face are based on real events, ranging from city centre regeneration to an attack by a swarm of locusts. Students attempt to resolve the disputes by mediation conducted under ICC's latest Rules of Mediation, which replaced the ICC Amicable Dispute Resolution (ADR) Rules on 1 January 2014.
"We're delighted that this year's Competition will enable all participants to become acquainted with the new ICC Mediation Rules," said Andrea Carlevaris, Director of ICC's Dispute Resolution Services, and Secretary General of the International Court of Arbitration of the International Chamber of Commerce. "We hope that all students will return home with an in-depth knowledge of mediation skills so as to be prepared to use mediation as efficient dispute resolution procedure in their future lives. We also hope that that all mediators gain a strengthened international network of colleagues, to further support the development of mediation and best practices in all parts of the world."
Four of today's quarterfinalists will be selected to compete in the semifinals at Eversheds on the morning of 12 February, in a dispute over the fudged film interpretation of a successful book. Then just two teams will go through to the KPMG Final tomorrow afternoon, in a mediation session on the patenting of a new anti-sneezing drug, which will at last determine the winning team of the 9th ICC Mediation Competition.
With 66 teams competing from universities in 32 countries, helped by 120 professionals volunteering as mediators and judges, this year's event has attracted more than 500 participants.
For more information visit ICC Mediation Rules