Global governance
CNBC interviews ICC leaders
ICC Vice-Chairman Harold McGraw III and Marcus Wallenberg, Chairman of the ICC G20 Advisory Group, appeared live from Saint Petersburg on CNBC's television news and talk programme Squawk Box Europe.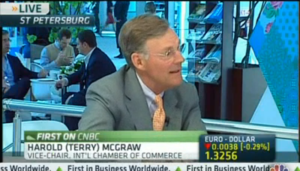 Hosts Stephen Sedgwick and Geoff Cutmore interviewed Mr McGraw and Mr Wallenberg on the morning of the Business-20 (or "B20") sessions taking place as part of the Saint Petersburg International Economic Forum.
The B20 meetings were held under the theme "B20-G20 Partnership for Growth and Jobs" in preparation for the G20 Summit to be held in Strelna, Russia from 5-6 September 2013.
View the CNBC interview of Marcus Wallenberg
View the CNBC interview of Harold McGraw
CNBC online also quotes ICC's Vice-Chairman in its coverage of the Forum entitled Business Leaders Send Strong Message to Putin