Business gives last push to seal Bali deal and salvage Doha Round
A prime opportunity to further liberalize multilateral trade presents itself next month when ministers from 159 countries converge at the 9th Ministerial Conference of the World Trade Organization (WTO) in Bali.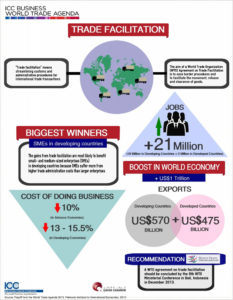 In the home stretch to the crucial negotiations, ICC is urging all WTO Members to seal a trade facilitation deal that would contribute to economic growth and job creation by simplifying administrative procedures and standards that dictate how goods cross borders or how they are handled in customs.
The conclusion of a WTO agreement on trade facilitation at the 9th WTO Ministerial Conference in Bali is one of five business recommendations put forward by business through the ICC Business World Trade Agenda (WTA) initiative launched in partnership with Qatar Chamber of Commerce and Industry in March 2011. The initiative set out to consult CEOs and senior executives in all major regions of the world in a bid to outline priorities for a practical and forward-looking trade policy agenda.
"Moving forward with the WTO's trade facilitation agreement should be a top priority given the substantial potential benefits," said ICC Chairman and Chairman of McGraw Hill Financial Harold (Terry) McGraw. "After years of stalemate on the global trade agenda, there is now a real opportunity to achieve a meaningful result that increases market access and creates openings that unleash more opportunities for higher growth throughout the world."
ICC has called on WTO Members to show political will at the highest levels to reach an agreement on trade facilitation and to make commitments and compromises that recognize the common interest in success and the collective cost of failure.
One ICC study has found that reaching an agreement on trade facilitation could not only boost global gross domestic product by US$960 billion but also increase exports of developing countries by US$570 billion and of developed countries by $US475 billion. A further benefit would be the associated creation of 21 million jobs, 18 million of which would be in developing economies.
"The multilateral system is an important framework that promotes a level playing field, for SMEs in particular. A Bali deal would cut the red tape that can divert precious resources, slow supply chains and increase the cost of goods by an estimated 5%-15%," said Victor Fung, Former ICC Chairman and Chair of the ICC Business World Trade Agenda."Ultimately it is crucial to the survival of an approach to international trade negotiations that favours all nations and makes developing countries more integral players in global trade and more attractive destinations for foreign investment to the benefit of the world economy."
In September, G20 leaders laid the foundation for success in Bali, declaring in two paragraphs of their final communiqué that a successful outcome on trade facilitation would be a stepping stone to further multilateral trade liberalization and to advance negotiations on the stalled Doha Round. ICC hopes that WTO members will respond to G20 calls and show the necessary flexibilities to get the job done in Bali and today issued a set of world business priorities ahead of the Ministerial Conference.
Download ICC Business Priorities at Bali
For more information visit ICC World Trade Agenda