Diversity
Boosting opportunities for women is good for business
Access to capital, networking and training are among the challenges blocking women from economic empowerment said business leaders – speaking at the session 'Women mean business', during the ICC WCF 8th World Chambers Congress – and increased public-private partnerships was among the responses they proposed to tackling gender inequality.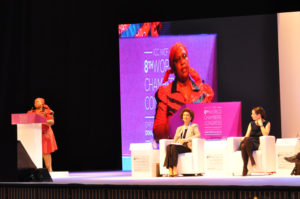 Haifa Fahoum Al Kaylani, Founder & Chairman, Arab International Women's Forum, led a discussion between Maelle Gavet, CEO of Russia's large e-commerce company, Ozon Holdings; Leena Linnainmaa, Deputy Chief Executive, Finland Chamber of Commerce; Malitlou Morojele, Past Chair, Lesotho Chamber of Commerce and Industry; and ICC Secretary General Jean-Guy Carrier.
"I felt it was my duty and job to make my government realize that women can be strong enough to change the economy," said Ms Morojele, who described how she started out in Lesotho as a vendor on the street with no access to financing. "As we grow older, there is a need to leave a legacy for women entrepreneurs."
Women in the Arab world also have difficulty growing their businesses due to their difficulty in securing financing, as well as prevalent cultural values on the role of women, according to Ms Al Kaylani. She said that the social and political uprising following the Arab Spring has created both opportunities and further challenges for the women in the region.
"Women in the Arab world need a level playing field in order to start their business," Ms Al Kaylani said in reference to inequality.
Finland, despite its high development standards, is not a paradise for women in business according to Ms Linnainmaa, who told the audience of the plenary session that there is not one female CEO in her home country.
However, in the past decade, there are three times more women on the executive boards of Finnish companies she said – attributing this to the impact of self-regulation and also the role of the media in "shaming" companies.
The self-regulation of companies for improving the advancement of women is more effective than government-imposed quotas, which can sometimes do more harm than good, Ms Linnainmaa argued. "We will do it ourselves as we can," she said.
She also underscored access to affordable childcare as a pre-requisite to having women in the workforce. Mr Carrier agreed that the working environment in business is not necessarily conducive for women to advance in both their personal life and career over time.
Practical solutions are necessary, he said, proposing that self-regulatory codes on inequality be an integral part of a company's business plan. ICC is set to develop such codes, for use in particular by SMEs, through its World Business Women initiative. This initiative also involves an evaluation of gender equality within its Paris secretariat. "We must all look in our own backyards," Mr Carrier said.