The Bali Business Forum took place today on the sidelines of the World Trade Organization's (WTO) 9th Ministerial Meeting taking place this week in Denpasar.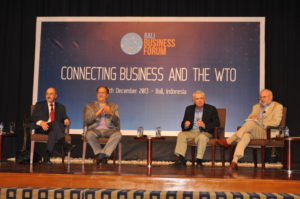 The unique forum aimed to provide a platform to ensure constructive business contribution to the talks and to demystify for participants what is on the table in Bali and what is at stake.
Suryo Bambang Sulisto, Chairman, KADIN, the Indonesian Chamber of Commerce and Industry, said: "This is a critical moment in the WTO negotiations and it is all the more important for the private sector to stay engaged and push for a positive outcome of the negotiations. Much of the real work at this point can be done on the sidelines at events like this one." Mr Sulisto said that any erosion of the WTO could have dire consequences for business and that painful but necessary reforms were rarely triggered by bilateral agreements.
WTO Deputy Director-General Karl Brauner told participants that a deal could be done if political will could be mustered. "For this we need the voice of business," he said. Mr Brauner said that he had been somewhat disturbed by several well meaning delegations who said that they wanted to save the WTO with a success in Bali. "Let's remember that we are not here for the wellbeing of the WTO," he said. "We are here for jobs and growth."
Featuring some of the world's leading economists and moderated by ICC Secretary General Jean-Guy Carrier, the first of four Forum sessions aimed to explain the quantitative benefits of a Doha trade round deal.
"A small decrease in transaction costs applied across the large volume of traded goods and services yields a very big number," explained Jeffrey Schott, Senior Fellow at PIIE.
"The opportunity in Bali is to kick start not only more improvements on trade facilitation but also to kick start a broader post-Bali agenda of agreements."
James Bacchus, Chair of the Global Practice Group, Greenberg Traurig, told forum participants that doing things globally would not only lead to greater prosperity but that prosperity could also be shared overall.
"If the world doesn't come to together and conclude a deal in Bali, there won't be a 'time out' on trade," he warned. "The big players will continue to work together to create rules that will leave a lot of countries out."