Mediation
8th International Mediation Competition gets underway
A palpable energy and excitement fills the air at ICC headquarters in Paris today as 66 university teams from 31 countries set out to showcase their mediation skills in ICC's 8th International Mediation Competition.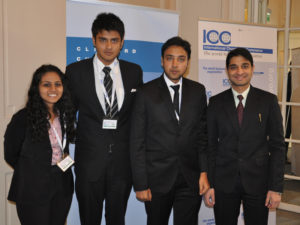 The list of qualifying teams, made up of law and business students, features universities from Australia, Belarus, Brazil, China, Greece, India, New Zealand, Poland and the US.
Hoping to defend their university's title, winners of the 2012 edition of the Competition, South Texas College of Law are also among the competing teams.
"The ICC competition is the most prestigious mediation competition and our best chance to get a broader perspective on the mediation process in other countries,"
said teammates from the National Law Institute University, India.
"We are trying to be the stalwarts of mediation because compared to other regions of the world ADR in India is not widely used at present."
Along with teammates Jiao Yang and Hao Qi, Yubao Liu, a student at the Peking University School of Transnational Law, has spent the opening day of the Competition preparing for a first round mediation against the University of Lorraine. "We want to apply standards to make mediation more efficient in China," she said.
The Competition is one of the world's leading mediation capacity-building events. Over the next six days, teams will face complex, international business problems, which they must attempt to resolve by mediation conducted under the ICC Amicable Dispute Resolution (ADR) Rules.
Mark Jackson-Stops has conducted over 1,000 mediations and explained why he was volunteering his time to act as a judge in the Competition for the fourth consecutive year. "We as mediators are here because we want a whole generation of lawyers to recognize that mediation is really an important part of the dispute resolution system," he said. "We have years of experience and know how certain techniques work and how others don't. We aim to give encouragement to students and steer them into ways in which they can become more effective."
"The ability to peacefully resolve commercial disputes has always been at the core of ICC's activities since its creation in 1919," said ICC Secretary General Jean-Guy Carrier. "In this context ICC is proud to contribute to the next generation of dispute resolution specialists."
services visit ICC Arbitration and ADR.