G20
ICC G20 Advisory Group looks ahead to Brisbane Summit 2014
Speaking to a gathering of ICC G20 Advisory Group deputies in Paris yesterday, ICC Secretary General Jean-Guy Carrier said: "The G20 has emerged as the premier decision making forum for international economic cooperation and is where business needs to be. ICC stands out as the only truly global organization feeding business views into the process."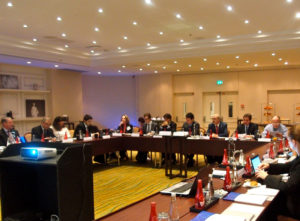 Over 20 deputies, representing CEO members of the group, attended the meeting which briefed participants on business engagement during Summits, progress made to date and ICC's work programme looking ahead to next year's G20 Summit in Brisbane, Australia and beyond.
An enduring, legitimate voice of global business, the advisory group comprises business leaders from major global corporations such as Dow Chemical, GDF Suez, Novozymes, Repsol, Royal Dutch Shell, Schneider Electric and Telefonica. ICC is actively engaged between Summits to effectively contribute to the G20 process on policy development and is recognized by the G20 governments as a primary source of business expertise on the global policy agenda.
"We are receiving a clear message from G20 governments that business input is valued," Mr Carrier said. "The G20 declaration issued following the September 2013 Summit in Saint Petersburg is the most extensive document to come out of the process since the first Summit in Seoul in 2008. It covers several areas where ICC has made recommendations, from international taxation and anti-corruption to banking issues and trade facilitation."
The ICC group agreed to begin outlining forward agendas for trade, investment and infrastructure for contribution to the Australian G20 presidency. The deputies also reconfirmed the commitment by the CEO members of the ICC G20 Advisory Group to engage in the Australian work programme.
The G20 has an expanding policy agenda that reflects ICC's core goals for trade, economic growth and job creation and is an important process for the world business organization to remain connected to.
"We are pleased with the leadership being demonstrated by the Australian B20 group," said Jeffrey Hardy, Director, ICC G20 Advisory Group. "We look forward to supporting their work programme over the coming months – delivering the expertise of international business and the views of ICC's global business constituency."
Cindy Braddon, Vice-President, Government Affairs, McGraw Hill Financial said: "ICC is a unique organization, with a unique network whose advisory group value lies in its long-term G20 commitment and engagement, on behalf of business worldwide."
Companies represented at the G20 Advisory Group deputies meeting were:
• Bayer, Germany
• Dow Chemical, US
• Energy Transport Group, US
• Eskihisar Group, Turkey
• GDF Suez
• McGraw Hill Financial, US
• Nestlé, Switzerland
• Novozymes, Denmark
• Repsol, Spain
• Royal Dutch Shell, UK
• Schneider Electric, France
• SEB, Sweden
• Zurich Insurance Group, Switzerland
For more information or to get involved visit ICC G20 Advisory Group