WTO deal in Bali would unleash benefits for all, business tells ministers ahead of talks
Speaking to a high-level meeting between business and ministers at the World Trade Organization (WTO) Ministerial in Bali this morning, Victor K. Fung, Chairman of the ICC World Trade Agenda initiative, urged business to continue pressing their governments to conclude an agreement on trade facilitation in the next three days.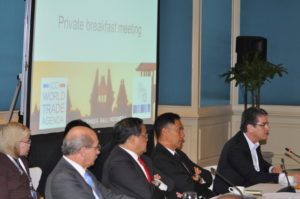 Mr Fung said that sealing a deal on trade facilitation at the 9th WTO Ministerial, commencing today would benefit all countries by creating millions of jobs and laying the foundations of a level playing field for all countries to compete in world markets.
Mr Fung and Gita Wirjawan, Minister of Trade for the Republic of Indonesia co-chaired the meeting organized by the International Chamber of Commerce (ICC) and the Indonesian trade ministry. Ministers and ambassadors from many key WTO member countries participated in the roundtable discussion.
"A trade facilitation deal would put multilateralism back on centre stage in the global quest for growth and prosperity," Mr Fung said. "For those of us who rely on the fairness, transparency and non-discriminatory nature of the multilateral system, a deal would be a victory for pragmatism and an important stride forward for creating a trading system that works for all. This is especially important for supporting the growth of small- and medium-sized enterprises and growth in the developing world."
WTO Director-General Roberto Azevedo told the gathering that a deal was in sight but would require political engagement and will at the highest level: "This is not a North-South divide and it is not a question of needing more time." he said. "Either we get a deal done here, or we don't."
Mr Azevedo described the role of the business community in pushing for a deal as absolutely critical. "In the last few weeks as momentum has picked up, governments began to pay more attention as businesses became more involved and people began to realize the importance of the package we have before us. Businesses saying that they want this deal, both in developed and developing countries, changed the environment in Geneva significantly and it can change the environment here too."
Mr Wirjawan told participants: "We are on the cusp of sealing a deal. We have an opportunity in Bali this week for ministers to show leadership and create the breakthroughs needed that would not only unlock the Bali package but also reinvigorate negotiations on the rest of the Doha Development Agenda."
Mr Wirjawan acknowledged the role ICC plays in pressing the WTO to establish new rules to promote global prosperity and a level-playing field, and assured meeting participants that those priorities were shared by Indonesia in the belief that the WTO must represent the needs of all of its members – the overwhelming majority of which are developing economies.
"We are closer to a deal now than ever before and it is worth persevering to achieve the objectives of a deal that would benefit everyone. The agreement on trade facilitation is an excellent example of how the WTO can provide legal certainty while ensuring all WTO members have equal opportunities. It is a win-win proposition."
A recent report commissioned by ICC has shown that the conclusion of a trade facilitation deal in Bali would generate annual world GDP increases of approximately US$960 billion and would increase exports of developing countries by US$570 billion. It would also create 21 million jobs, 18 million of which would be in developing economies.