Incoterms® rules
Incoterms® rules turn 80
July marks the 80th anniversary of the flagship International Chamber of Commerce (ICC) Incoterms® rules. We are kick-starting celebrations by bringing you six facts about the indispensable international commercial trade terms:
80 Years
One of ICC's very first initiatives as the world business organization was to facilitate international trade. The many differences in practices and legal interpretations between traders around the globe necessitated a common set of guidelines. As a response, the ICC Incoterms® rules were officially established in 1936 and have been evolving ever since.
8 Editions
Because commercial practices constantly develop with time, it is essential that the ICC Incoterms® rules follow suit. After the initial introduction, there have been seven revisions to the terms reflecting contemporary methods of carrying goods, implementing contracts of sale, clearing goods for export and import and using documents as evidence in order to secure the rights of the entitled persons to receive the goods from carriers at agreed destinations. The most recent edition is Incoterms® 2010 with an update to the rules anticipated for 2020.
11 Trade terms
ICC Incoterms® rules are each composed of a three letter acronym. They are designed to explain a specific set of responsibilities of the buyer and seller in a contract for the sale of goods, relating to transport and delivery. Today, the Incoterms 2010® rules comprise eleven trade terms: EXW (Ex Works), FCA (Free Carrier), CPT (Carriage Paid to), CIP (Carriage and Insurance Paid to), DAT (Delivered at Terminal), DAP (Delivered at Place), DDP (Delivered Duty Paid), FAS (Free alongside Ship), FOB (Free on Board), CFR (Cost and Freight) and CIF (Cost, Insurance and Freight).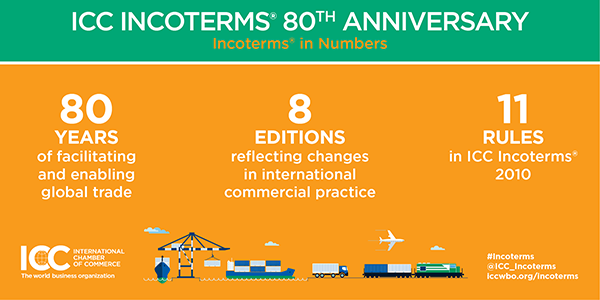 31 Translations
ICC Incoterms® rules have always been intended for both international and domestic use. That is why it was important for ICC to translate the terms into multiple languages. From Dutch to Macedonian, 31 versions are available today to help ensure proper use and interpretation.
140+ Countries
The first study of the ICC Incoterms® rules was limited to a scope of just thirteen countries. Now, the commercial trade terms are sold in over 140 countries. This number continues to increase every year.
1 Official creator
Since its inception in 1919, ICC's mission has been to promote international trade and investment. Constituting a defined global language for trading across borders, ICC Incoterms® rules truly foster this undertaking.
As the originator and developer of the Incoterms® rules, ICC protects the name "Incoterms" and the Incoterms®2010 logo as trademarks to help the trading community identify official and authentic ICC products and services relating to the Incoterms® rules.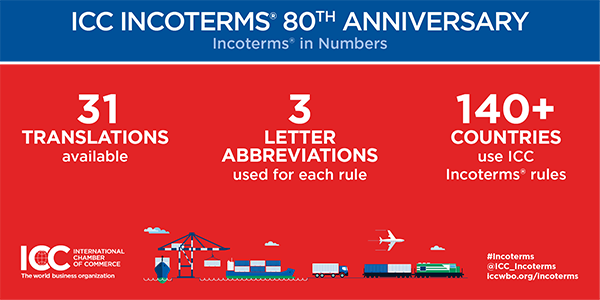 To learn further or to purchase the ICC Incoterms® rules, please visit the ICC Knowledge 2 GO. All ICC Incoterms® products are at a 20% reduction in honour of the 80th anniversary.
Stay up-to-date with the latest ICC Incoterms® rules news, trainings and special offers via Twitter using @ICC_Incoterms.