Mediation
ICC Masterclass for Arbitrators debuts in Asia
The first ICC Institute of World Business Law Masterclass for Arbitrators event to be held in Asia has been deemed a resounding success.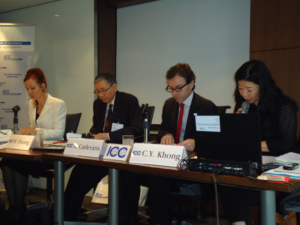 Seventy people from 21 countries took part in the Hong Kong event, hosted by Herbert Smith Freehills, a testament to the rapid growth in popularity of arbitration in Asia over the last decade. The condensed programme, held over two-and-a-half days on March 7-9, featured presentations and interactive discussions. Through mock cases and working in small groups, participants improve their understanding of the fundamentals and best practices related to serving as an arbitrator.
Participants, including practitioners from different fields and experienced arbitrators from various jurisdictions, learned from and interacted with some of the world's leading practitioners and scholars in international arbitration. The event was also an occasion to gain deeper insight into some of the new provisions of the 2012 ICC Rules of Arbitration.
Karen Olivia Jimeno, a participant from Jimeno Cope & David Law Firm / San Beda Law School, Philippines, said the event had significant added value for arbitrators: "We not only learned from the speakers but from the shared insights of our co-participants as well."
Her sentiments were echoed by other participants, who praised the event for being well organized, compact and insightful on aspects of arbitration practice.
The event was rewarding for speakers too. Michael Hwang SC, Senior Counsel & Chartered Arbitrator, Michael Hwang Chambers, Singapore, and an ICC Court Member, said: "I enjoyed sharing many thoughts and experience with people who displayed a genuine interest in the topic and were both responsive and enthusiastic."
Meanwhile, Justin D'Agostino, Partner, Head of Greater China International Arbitration Practice, Herbert Smith Freehills, Hong Kong, praised the level of interaction among participants and speakers as "second to none".
The ICC Institute of World Business Law acts as a think tank and works closely with the ICC International Court of Arbitration. The Institute, created over 30 years ago, is made up of 44 members from 23 different nationalities, who are all leading professionals or academics in international business law or international commercial arbitration.
The next Masterclass will be held in Paris on 20-22 November, 2013. The Masterclass will then be introduced to South America in early 2014, at an event in Sao Paulo, Brazil.