Chambers services
ICC launches 2013 edition of International Standard Banking Practice
The International Chamber of Commerce (ICC) today introduced the 2013 edition of International Standard Banking Practice (ISBP), the most up-to-date guide for examination of documents under documentary credits.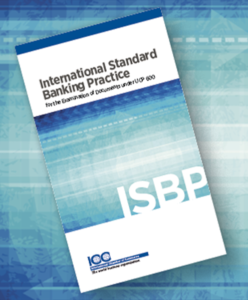 This revised guide details banking practices to be applied when working with documentary credits that are subject to Uniform Customs and Practice for Documentary Credits, UCP 600 – ICC's most recent rulebook on documentary credits used for letter of credit transactions worldwide
This new edition of ISBP does not amend UCP 600 but moreover demonstrates how its principles and content should be integrated into day-to-day practice. It achieves this by providing readers with detailed practices to be considered and applied when working with different trade documents including invoices, transport documents, insurance documents, and certificates of origin. It also provides coverage of documents which are not specifically mentioned in UCP.
New to this edition
The 2013 edition of ISBP covers, among others, practices identified from Opinions approved by ICC national committees since 2007, and also features the following documents which were not previously covered:
Packing list
Weight list
Beneficiary certificate
Non-negotiable sea waybill
Analysis, Inspection, Health, Phytosanitary, Quantity and Quality certificates
This latest publication is the first complete revision of the ISBP guide, which was first approved and published by the ICC Banking Commission in 2002, following an update in 2007.
Thierry Senechal, ICC Senior Policy Manager and Banking Commission Executive Secretary said: "This guide has developed into an invaluable aid to banks, corporates, logistics specialists and insurance companies alike, on a global basis, when creating documents for presentation, or for the examination of documents presented under, a documentary credit."
It also assists recipients of a documentary credit in its creation and
presentation of documents to a nominated bank or issuing bank.
Gary Collyer, Chair of the Drafting Group for the revision of ISBP, said: "Rejection rates have decreased since the original launch of the ISBP guide in 2002 and it is acknowledged that a major contributing factor to this is the application of the practices detailed in ISBP."
Get your copy of 2013 edition of International Standard Banking Practice (ISBP)
For more information on ICC's banking activities visit the ICC Banking Commission