Climate change
ICC highlights potential for technology cooperation at BINGO Business Day
Leading experts explored innovative solutions to create an enabling framework for low emissions technology diffusion during the recent Business and Industry Non-Governmental Organization (BINGO) Business Day which took place during the 19th annual Conference of the parties (COP) under the United Nations Framework Convention on Climate Change (UNFCCC) currently taking place in Warsaw.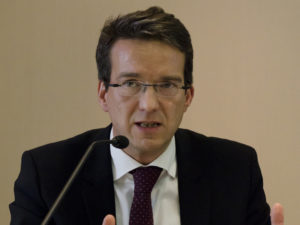 The ICC-hosted panel identified opportunities for business, with regard to technology cooperation, and discussed how they could be unlocked by examining examples of good practice and other case studies. The role of the UNFCCC in providing a catalyst for implementation was also examined as well as the contribution of the private sector in shaping policy that promotes a clean energy transition.
"The world needs business as a technology provider and partner to combat the huge impacts of climate change," said Kersten-Karl Barth, Chair of the ICC Commission on Environment and Energy, and Sustainability Director, Siemens. "Now there is strong momentum to cooperate rather than to only compete – be that among businesses or governments themselves or between business, civil society and governments. No one can win this alone."
Other panellists included Izabela Kiechlowska, Energy Policy & Government Affairs Director Central & Eastern Europe, GE; Lou Leonard, Vice President, Climate Change, WWF International; Antonio Pflueger, Chair of the TEC; James Wilde, Director of Innovation & Policy, Carbon Trust, Paul Watkinson, Head of the French climate negotiation team and Carlos Busquets, ICC Deputy Director for Policy and Business Practices.
The panel was one of six Business Day panels facilitated by eight international business organizations. With opening addresses by United Nations climate chief Christiana Figueres and Polish Vice-Minister of Environment Beata Jaczewska, the Business Day illustrated private sector commitment to constructive policy input into the UNFCCC process. "There are three priorities to address climate change – high resilience, low carbon and high growth," Ms Figueres said. "In 2014, on the way to Lima, it will be more important than ever to have an active business voice if we want to come to an ambitious and effective draft agreement. Business needs to show its willingness to increase low carbon solutions, and create minimum confidence that climate solutions are there and can be scaled up under the right framework."
Ms Jaczewska said: "The role of business is crucial. This is why the Polish government decided to reinvent this business dialogue and let in new ideas. We do need climate solutions and it will be foremost the private sector that will bring them. This event can foster honest discussions about what would work and what would not, and what kind of legal framework is needed."
Throughout the day, over 150 business representatives, government leaders and experts participated in plenary and panel sessions covering industry and issue-specific topics that focused on the role of business in contributing to achieving scale and speed to deal with climate change – with an emphasis on the need for collaboration and implementation moving forward.
The World Climate Summit 2013, which took place on November 17, was among other events that ICC engaged in during COP19.
Carlos Busquets, ICC Deputy Director for Policy and Business Practice, said: "As the voice of world business, ICC is delighted to once again contribute to the World Climate Summit as an Institutional Partner. As a Founding Partner of The Road to Paris 2015, we also look forward to building a practical business solutions platform for a global deal in Paris in 2015."
The World Climate Summit is one of the largest business conferences during COP19. The Road to Paris 2015 is a new process initiated by World Climate Ltd to provide the strongest bottom-up platform with business for a global climate agreement.